Welcome to the website of the Swedish Postal History Society (SSPD).
The members of SSPD study and collect Swedish postal history. We display our collections at philatelic exhibitions and publish our findings, for example in the Society's own publication Aktuellt om Posthistoria. SSPD has regular meetings in Stockholm and Malmö, including the annual "Postal History Day" at Postmuseum. We are currently just over 100 members. Membership is by invitation only.
For further information about SSPD, or queries about Swedish postal history, please contact the Society by email: info@sspd.se
SSPD has several online research/documentation projects. The full list of projects is available here. Below are links to projects with text in English:
Postage due items from USA to Sweden
Solo use of the Post Horn issue 1920-34
Solo use of the Three Crown issue 1939-69
Swedish due postmarks on foreign mail, centime values
Swedish due postmarks on foreign mail, tax fractions
Swedish-American poster stamps
Uses of the USA 1938 Presidential issue on mail to Sweden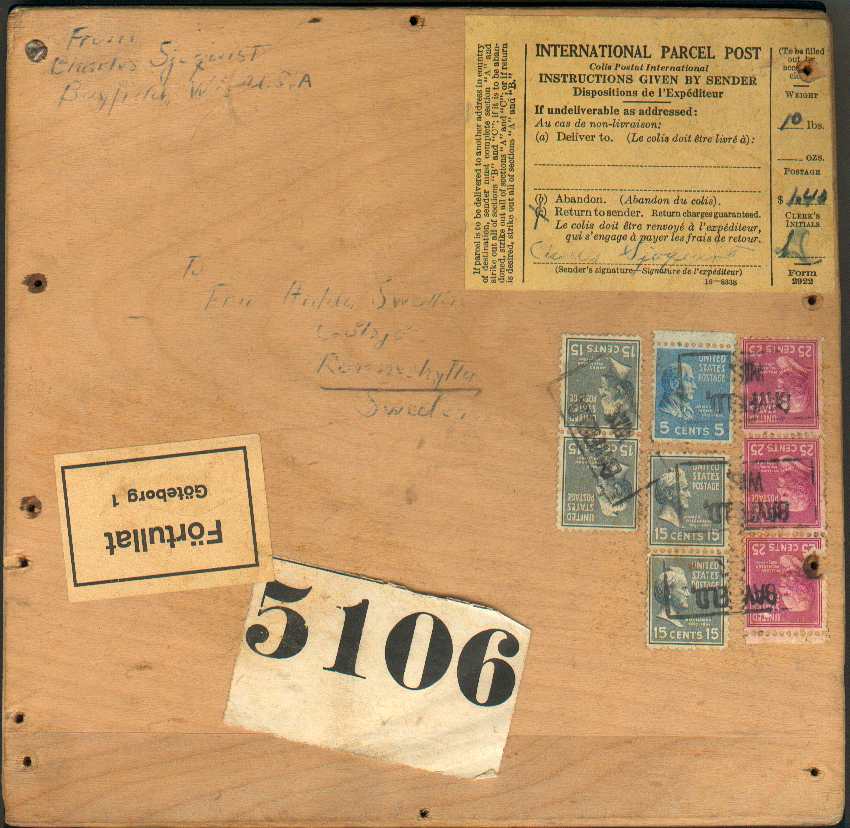 140 cents postage for a 10 lbs surface mail parcel from the USA to Sweden. From the documentation project The USA Presidental (Prexie) issue of 1938 used to Sweden.